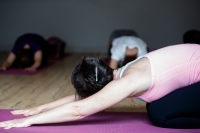 Enjoy full access to our online library of yoga, pilates and mindfulness classes for use at your own leisure, when and where it suits you best. In addition you can also enjoy attending your choice of classes from our weekly live class schedule.
This 3 month online package includes:
Access to a 5 week "Live" class programme on zoom.
Access to 35 pre-recorded classes on vimeo.
Additional 4 new videos per month sent by email.

Access to audio recordings, two Mindfulness Meditations and one Guided Relaxation.

Online Support throughout for questions and advice.

If you are a new student you will also receive a free initial consultation via zoom to go through which videos best suit your needs and abilities.
The Class Recordings include:
7

Vinyasa Flow Yoga Classes - Intermediate Level - including one Sun & one Moon Salutation

6

Standing Yoga Flow Classes - no weight bearing on wrists

6

Pilates for Beginners Classes

6

Gentle Chair Yoga Classes - Joint Mobility Focus

4

Gentle Vinyasa Flow for Complete Beginners Classes

2

Gentle Yoga Therapy for Stress Reduction & Fatigue Management Classes

2

Gentle Pilates for Complete Beginners Classes

1

Gentle Standing Flow for Joint Mobility Class

1

Mindfulness Meditation Session

1

Guided Relaxation Session

1

Introduction to Gentle Standing Yoga Class
The 5 Week Live Class Programme Schedule is:
MONDAY
6pm: Vinyasa Flow Yoga - 60 mins - ( Intermediate Level)
7.30pm: Yoga Therapy for Chronic Illness / Stress / Fatigue - 50 mins
WEDNESDAY
1.15pm: Pilates for Beginners - 30 mins - Open Level
1.50pm: Guided Mindfulness Meditation - 10 mins
FRIDAY
1.15pm: Standing Yoga Flow for Joint Mobility - 30mins
Please note that the yoga and pilates classes are not suitable during pregnancy. Also, the pilates classes are not suitable for those who have osteoporosis.
If you are an existing student with a new medical condition or injury please let us know so that we can best advise you on the suitability of classes.
We hope you enjoy this offering and that it supports you in maintaining your overall mind and body well-being during the Winter months.