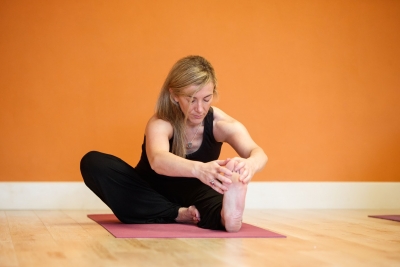 Enjoy full access to our weekly class schedule. This 6 week online programme offers you a selection of Yoga classes including Vinyasa Flow, Yoga Therapy for Stress Reduction and Standing Yoga for Joint Mobility.
These classes are all taught by Róisín Kenny.
Our schedule is designed so that you can enjoy the benefits of regular movement and meditation sessions. Helping you to tend to your physical, mental and emotional self-care needs.
You are welcome to do as much or as little as you feel on a given week and each weekend one class will be sent to you to practice at your own convenience.
When following online classes please feel free to pause and rest when you need and remember to listen to your body and do only what feels good for you and your ability.

Please contact us if you have any specific health circumstances that you would like to discuss in relation to the classes and we will happily advise on suitability.
Please note once you register for online classes your zoom invitations will be sent via email.
The Weekly Schedule:
MONDAY
6.15pm: Vinyasa Flow Yoga - 60 mins - (Intermediate Level)
7.30pm: Mindfulness and Yoga Therapy for Chronic Illness / Stress / Fatigue - 50 mins
WEDNESDAY
7.30am: Standing Yoga Flow for Joint Mobility - 30mins