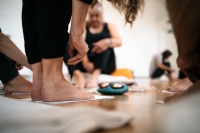 Join us on April 10th for a creativity workshop for adults. This 90 minute online session will be an introduction into the different ways art can support and protect our well-being and become a form of self-care.
We hope that the experience of guided art-making will enable adults to connect to their own creativity and to the feeling of self-expression and personal reflection.
It is important to know this will not be an Art Therapy session. It will however be an opportunity to look at the process and the feeling of art making through a " well-being" lens.
To take part in this session please have a quiet space prepared at a table or on the floor. Bring the following materials: paper, pens, markers or crayons, cellotape, a sciccors and any other art materials that you like to use.
This session will be facilitated by Art Therapist and Mindfulness teacher Roisin Kenny.
Any questions please let us know.
Date: 10.04.2021
Time: 10am - 11.30am
Location: Zoom