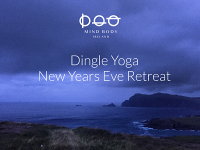 This nourishing New Years Eve retreat provides a wonderful opportunity to listen inwards, to reflect and to settle into a state of deep rest. From this place of stillness and deeper connection to ourselves we can mark and celebrate the transition to the New Year... and importantly the new decade!
Set in the heart of Dingle the natural landscape surrounds and supports this reflective 3 hour workshop and offers a wonderful backdrop for this special evening.
As we acknowledge the forward transition to the New Year, we may be reminded of what we wish to treasure from the past as well as what we need to release and let go. We will explore these ideas through guided relaxations, personal private creative expression on paper, movement and meditations.
The new year arrives as we are still very much nestled within Winter, to honour this season of stillness the workshop will offer movement and breath practices that slowly stir and warm the body, encouraging gentleness towards the self, and offering a reminder to look forward as increasing light approaches.
Art Therapist, Mindfulness and Yoga Teacher Roisin Kenny facilitates this workshop and brings together with sensitivity and safety her understanding and respect for these valuable practices.
We hope to see you in Dingle for New Year's Eve and look forward to holding this space for you as you explore and reflect internally.
*The workshop welcomes complete beginners as well as those with experience of movement, yoga, creative or meditation practices.
All art materials and yoga props are provided.