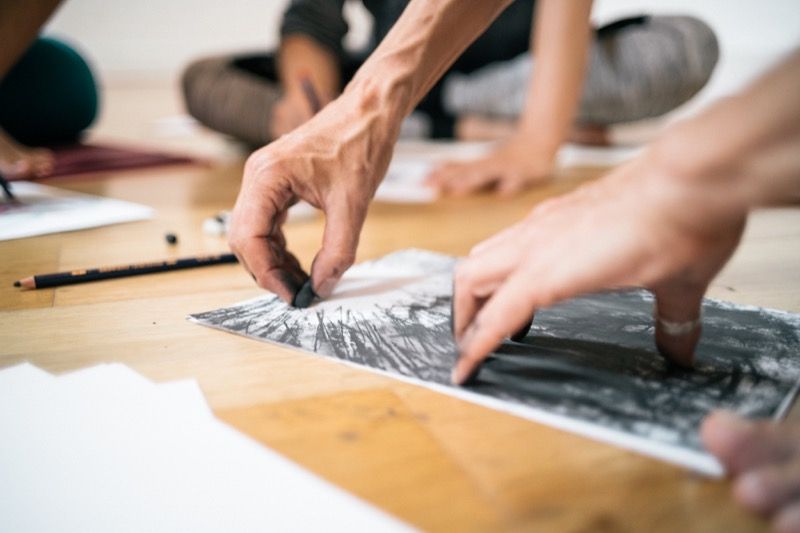 Visual Journaling is a practice long associated with Art Therapy but it is something anyone can turn their hand to when ever they choose.
The creative practice of visual journaling encourages the art of listening inwards and the exploration of feelings or beliefs that may be lying just below the surface of everyday thoughts.
Below the surface thoughts or the unconscious mind can be like a strong current influencing the direction of your life. By paying attention to how you feel as you draw, as well as to what images spontaneously arrive, you are shining a little light on these deeper currents. In doing this you gain back some control and can choose to step out of the currents that are less helpful.
There are many reasons why people make space for visual journaling in their daily lives. For some the lure is the stress-reducing benefits that follow engagement in creativity. Others turn to this style of image making for personal exploration. For others the daily practice takes on a more directional guise in the form of "Intention Setting" Visual Journaling.
When you engage your imagination and your creative instincts you connect to a more honest part of yourself which can be really helpful if you are feeling indecisive. You may connect to what you truly need as opposed to what society suggests you want.
If you have an ambition or a direction you would like to see your life moving towards, then bringing that intention into your image making can help clarify your ambition, which in turn increases and drives your motivation for goal attainment.
Tips for Successful Visual Journaling:
Why: Identify your motivation for journaling, whether that is stress-reduction or a specific personal goal.
Where: Identify where in your home you feel most comfortable engaging with your journal
When: Identify a preferred time of day for sitting uninterrupted with your thoughts and journal… for at least five minutes.
How: Gather and collect pencils, pens, photos, images from print media, fabric pieces and any art materials you have available. Have these to hand with your journal in a special box or bag accessible from your chosen location.
Remember: Trust your own ability to untangle any indecision or block you meet along the way.
Finally: And most importantly make a commitment to yourself, from a place of kindness, that you will maintain the daily practice for 30 days.
For those of you who might prefer the social aspect and peer support of a group environment, our new 10 week course "Mindfulness-Based Creativity for Stress Reduction" with Roisin Kenny starts this February in Douglas, Cork.
Feel free to let us know how your visual journaling impacts your psychological wellbeing and ambition fulfillment .